Our office uses modern, state-of-the-art technology to enhance patient comfort and to help you get the smile you deserve!
OralCDx
OralCDx represents a breakthrough in oral cancer detection, a test that will allow you and your dentist to improve the prognosis of a disease that has remained unchanged for the last 50 years.
OralCDx is the first computerized brush biopsy system. It allows dentists to quickly, painlessly and reliably detect oral cancer in its earliest, most easily treatable stage.
Originally developed as part of the "Star Wars" missile defense program, the OralCDx computer system includes a neural network-based image processing system specifically adapted to detect abnormalities unique to oral brush biopsy samples.
---
Computer Digital Radiography (CDR)
| | |
| --- | --- |
| Digital x-rays can now be taken using sensors that transmit the image directly into a computer monitor. This larger image helps the patient understand the doctor's explanations more easily and enables the doctor to "zoom in" on a specific area of the tooth. An important advantage to this new technology is that it reduces the amount of radiation by 90%. Digital x-rays are also faster. The digital image only takes a minute or two to appear in the monitor. In addition, this new technology is friendly to the environment since no chemicals are needed for developing the image. | |
---
Computer Controlled Injections - The WAND™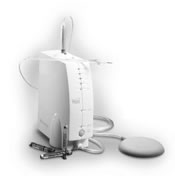 We know that some patients get more nervous than others do at the mere sight of a needle and syringe. That's why this office now performs anesthetic injections with a revolutionary system called The WAND™.
The source of discomfort for most injections, however, isn't the needle, it's the flow of the anesthetic into your tissue. The WAND™ delivers the anesthetic at an optimal flow rate for a comfortable injection.
The microprocessor inside The WAND™ automatically ensures a steady flow rate regardless of tissue density. Constant, slow flow is one key to virtually pain-free injections. The computer provides a flow of anesthetic directly ahead of the needle. This creates a pathway of anesthesia so you hardly feel the needle at all.
The WAND™ allows injections that do not numb the lips, face and muscles of expression. Whether injections make you nervous or not, The WAND™ helps us provide a more effective anesthetic delivery and the onset of anesthesia is often faster. You're more comfortable throughout the procedure, and we may be able to use new techniques so you won't experience the lingering numbness of your tongue, lips and face.
---
DIAGNOdent

The DIAGNOdent is a new high tech laser system that aids in early diagnosis of cavities in the complex anatomy of the chewing surfaces of teeth. It utilizes laser light of a defined wavelength to help detect and quantify demineralized tooth substances without x-ray exposure.
---
Intraoral Camera
| | |
| --- | --- |
| | Our intraoral camera uses a tiny fiber-optic wand to easily take vivid photographs of the inside of your mouth. This allows us to let you see what we see. |
---
Air Abrasion

Air Abrasion is a gentle spray of an air and powder that gently sprays away tooth decay. There is no heat, vibration or sound, like there is from a drill. The procedure is relatively painless, therefore not always requiring an injection. Air abrasion is a very precise technology and usually removes less tooth structure for a filling than a drill would.
---
MicroDentistry
MicroDentistry means finding decay as early as possible so that treatment can be done with minimal removal of natural tooth structure. Restorations (fillings) are the smallest possible, esthetically pleasing, and long-lasting.
---
Automated Charting Software (Florida Probe)
| | |
| --- | --- |
| This system connects a computer database to a special probe so we can quickly, easily, and accurately record individual measurements when performing a periodontal exam. | |
---
Multimedia Education
| | |
| --- | --- |
| | Our treatment rooms are equipped with state-of-the-art patient-education DVD systems. If you are uncertain about a particular procedure, we will be happy to play the DVD video segment for you. |
---
Veneers
| | |
| --- | --- |
| New technology in veneer fabrication allows us to perform dazzling transformations with minimal surface preparation. | |
---
White fillings
| | |
| --- | --- |
| | Although white fillings have been around for a long time, the new materials can now be used in a wider range of applications allowing you to keep your smile as white as it can be! |
---
Dental Implants
Modern Dental Implants allow us to recreate your natural smile. Dental Implants can be used in a broad range of situations, from replacing a single tooth to providing secure anchors for dentures. Click here for details.